NYC Traffic Commissioner Janette Sadik-Kahn
Any day now...
http://www.nytimes.com/2011/09/15/nyregion/new-york-picks-alta-to-run-bike-share-program.html?_r=0
Yeah it's coming soon - summer of 2012.
http://www.nytimes.com/2010/11/23/nyregion/23bikeside.html
ARCHIVES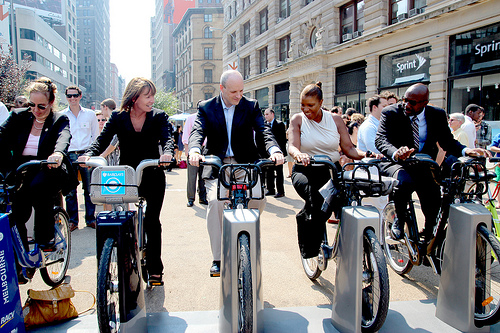 NEW YORK — The latest delay of the city's bike share program is being blamed on damage caused to equipment by the floodwaters of Superstorm Sandy.
The bike share will now launch in May 2013, with 5,500 bikes instead of 10,000 as initially planned, the city's Department of Transportation said in a news release Friday. The bikes will now roll out first "in the densest and most geographically contiguous parts of the service area" of Manhattan and Brooklyn.
Citi Bike Share, as it is known, failed to launch this past summer as expected because of software glitches.
And while the program appears to be lurching forward, there are signs that the Candian-based sole supplier of bikes and technology for the bike share, known as Bixi, is in financial trouble and is straining to meet its obligations in other U.S. cities.
Recently put up for sale, the company and its U.S. partner, Alta Bicycle Share, have been incapable of delivering 54 new bike stations for the expansion of the Washington, D.C., program, according to The Washington Post. There are also delays with the launch of Bixi-based systems in Chicago and San Francisco, though not necessarily because of difficulty obtaining equipment.
Alta Bicycle Share was also picked to oversee New York City's bike share.
The delays — coupled with the culture of secrecy by company and city officials regarding details about the program's launch — have added to the frustrations of cyclists as well as critics who say that despite the Canadian supplier's financial woes, Alta appeared to be a shoo-in for the New York City program.
Meanwhile, critics of how the city has handled the bike share program are questioning whether Alta has adequate insurance to cover the damage to the equipment caused by Sandy.
"I'd say expect more delay and more shrinkage of scope," said Norman Steisel, a former deputy mayor under David Dinkins who has sued the city over a bike lane in Brooklyn but supports the idea of bike shares. "Given its problem-plagued history to date in New York City and elsewhere, Alta has proved itself to be unqualified to carry out the program." He said that "sufficient grounds exist to declare the firm in default."